Cumbre del Sol on the Costa Blanca North in Spain is truly a place of astonishing beauty and tranquility. Together, the unrivaled views, weather, and beaches create the perfect combination for health and happiness.

Cumbre del Sol are also the home of one of Northern Costa Blanca's most popular schools specialising in the English curriculum, the Lady Elizabeth School. Pupils come from all over the world to study here after buying in Cumbre del Sol & Benitachell so there is an extremely international and inclusive feel.

Video Cumbre del Sol



With a real mixture of Spanish locals, Dutch, English, French and German, Cumbre del Sol has the feeling of a true international community.


Things to see in Cumbre del Sol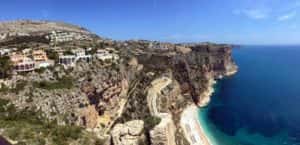 Cumbre del Sol boasts beautiful coves, wonderful walks and the famous 'Morach' or Moraig beach, a namesake of the cliff that rises above the beach called the Morach hill. Snorkelling is a given, with the almost transparent sea – not forgetting kayaking and paddle boarding on offer for the sea obsessed among us.

Cumbre del Sol is filled with life, celebrating a multinational identity through cultural events and active social-lives. With golfers, divers, nature-lovers, and sun-seekers just minutes from dozens of heavenly destinations and the towns of Javea and Moraira a short distance away.


Fiestas Cumbre del Sol
In May the 'Fiestas de la Rosa' takes place in honor of the Virgin of the Rosary. Like most fiesta's there are fireworks, dancing and drinking but also more traditional rituals such as church masses. One of the highlights is the famous blessing and distribution of bread to all residents – A real spectacle.

In July, the town celebrates one of its largest fiestas "Moors and Christians". The town is swamped by parades, incredible costumes and mock re-enactments. This prestigious fiesta is one celebrated across Spain and is an honor if you are chosen to be part of it. Benitachell surprises every year with its calendar jam packed with parades, paellas and fireworks displays rivaling some of its larger neighbors Javea & Moraira, in the partying stakes.


Airports near to Cumbre del Sol
Alicante is the best-placed airport for travel abroad, and like any major city, offers a variety of destinations and price points for the budget conscious. The working day is often seasonal, with later opening hours over the summer months, and many businesses still close during traditional siesta hours.

Alicante Airport (IATA: ALC, ICAO: LEAL), also known as Alicante-Elche Airport, is currently the fifth largest airport in Spain and is the gateway to the Costa Blanca resort region, serving both the Valencia Community and the Region of Murcia. It is located 9 kilometres southwest of Alicante city. Growing in size continuously over the past years, in March 2011 the airport got a brand new terminal building, replacing the old two terminals.

Corvera Murcia Airport is a new Airport in Murcia. Several airlines are flying in and out of Corvera Murcia Airport, covering an increasing number of flight routes. Corvera replaces Murcia San Javier Airport (for civilian flights) and is also run by AENA (the official airport authority). It has significant scope to handle many more additional routes.

Valencia Airport ( VLC ) also known as Manises Airport, is the tenth-busiest Spanish airport in terms of passengers and second in the region after Alicante. It is situated 8 km (5.0 mi) west of the city of Valencia, in Manises. The airport has flight connections to about 20 European countries and 5.79 million passengers passed through the airport in 2016.

A new regional terminal, expanded car parking facilities and apron area have been recently constructed in time for the 2007 America's Cup. The runway has been also lengthened by 50 m (160 ft). The airport has one terminal and one runway. The former runway 04/22 is not in use and has no ILS but has a helipad at the southwestern end.

It is the main base of Iberia's regional carrier Air Nostrum. Irish low-cost airline Ryanair used the airport as a hub since 2007 but decided to close it in November 2008 following a dispute over subsidies by the airport authorities. Since then the airline has continued to operate out of Valencia but as a relatively large destination airport, and not a base.


Car hire Cumbre del Sol
Car hire in Cumbre del Sol with full cover, no deposit, no excess, and zero surprises. We offer car hire with free door to door delivery/pickup service all over Costa Blanca North, including Alicante Airport and Valencia Airport. Use the search form below to find cheap all inclusive car hire in Cumbre del Sol or call booking +34 653 221 333.


Buy property Cumbre del Sol
The Costa Blanca is one of the favorite destinations for both Spaniards and Europeans to buy a 2nd home. One of the main reasons for this great influx of visitors is (besides the unrivaled climate Costa Blanca offers) the immaculate beaches stretching along the Alicante coastline. But the Costa Blanca has much more to offer in all aspects. From its mouth-watering culinary delights to the wide range of inland activities to be practiced locally. The Costa Blanca is a place to be enjoyed at any time of the year. Read more about buying a property in Cumbre del Sol.


Map Cumbre del Sol
Destinations on Costa Blanca North
Costa Blanca – Costa Blanca North – Alicante – Valencia – Albir – Alcalali – Alfaz del Pi – Altea – Benidoleig – Benidorm – Benilloba – Benissa – Benitachell – Calpe – Denia – El Vergel – Finestrat – Gata de Gorgos – Jalon – Javea – La Nucia – Lliber – Moraira – Orba – Parcent – Polop – Pedreguer – Teulada – Torrellano – Villajoyosa