Are you looking for scooter hire in Javea? If you rent a scooter in Javea it will give you freedom, and you can get around quickly, experience more, and enjoy all what Javea has to offer. Forget all the hassle of finding parking, long queues, hot flashes, and rather enjoy your holiday in Javea to the fullest with a motorbike rental.

Blanca Cars offer a wide range of possibilities to experience riding a scooter in Javea. Our office is just 100 meters from the sandy beach in Javea Arenal,. Get a quote for a 50cc or 125cc scooter below now, or Whatsapp +34 653 221 333.



Best scooter rental in Javea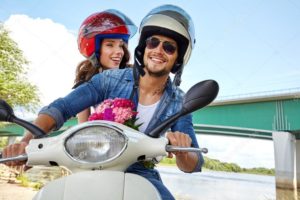 Javea on the Costa Blanca North in Spain is a dream for tours with a scooter. With a fantastic climate and a good road network, Javea can offer motorcycle and scooter enthusiasts a wide range of options to visit places throughout Javea.

Scooters has become the perfect vehicle to move around the city. They are light and their driving is easier, their consumption is very low, they are comfortable and, in addition, they are very practical and versatile. These advantages make them the perfect mobility solution for cities like Javea. Whether for your work, because you have to move from one end of the city to another, or because you are looking for a way to move during your holidays.


Prices scooter hire in Javea
Scooter hire prices in Javea vary according to season and time of year. Outside of the busiest holiday periods, it is often cheaper than during the joint holiday.


FAQ – Scooter hire Javea
To help you with any questions, we have prepared some of the most frequently asked scooter rental questions below. If you can`t find the answer you are looking for, please contact us, or call +34 653 221 333.


Do I need to put up a deposit?
Yes, deposits help to assure us that we will get our equipment back and in the same condition as it went out. Deposits can be made using cash, credit card or debit card. The deposit amount varies depending on the type of equipment and length of rental. The idea is to make sure we get our equipment back, get paid for the rental and get paid for any damages. If your scooter and accessories are returned on your scheduled return time free of damage or loss, then the security deposit will be refunded.

What if I need or want to extend my rental period?
If you want to extend your rental period, you must contact us no later than 48 hours prior to your scheduled return by calling us at +34 653 221 333. We will then check the booking schedule for your rental and, if there are no future booking conflicts with accommodating your rental extension, and at our discretion, we may elect to allow you to extend your rental period. Additional fees will apply.

Do you offer any discounts on long term rentals?
We offer rate discounts for rentals of 7 days or more.

How are rental rates calculated?
Rental rates are based on 24-hour increments. If you pick up the rental scooter at 10:00 a.m. it is due back by 10:00 a.m. the agreed upon day.

What if I am late checking in my rental?
If you are going to be late returning your scooter rental please call and let us know. We will always try to offer an extension so you don't have to pay a late fee.

Is there an extra charge for passenger?
There is not an extra charge for passengers. Passengers must be present at time of rental to sign a liability waiver.

What happens if I get a flat tyre?
In the event of this rare occurrence, your safety comes first. Please ensure your motorcycle is parked safely on the shoulder of the road if you are not able to stop in a more secure area. Then step back away from traffic as much as possible as you wait for assistance.

What if my equipment won't start?
Go over the starting instructions your rental location gave you. Please keep in mind the Breakdown Service may take some time depending on how busy we are, however we will make every effort to minimise, the time and get you back on the road as soon as possible.

Damages – How does this work?
We mark all existing damages, dings, scratches, dents. So we all know clearly that the damage is not new. Any existing damage will be marked on the hire agreement and pictures of the vehicle will be taken. We do NOT make a profit on damages, we only will charge actual costs.

Am I responsible for my rental in the event of damage, theft or loss?
Yes, you are responsible for the full amount of any damage, theft or loss of your rental per the terms of our rental contract. The mandatory third party liability insurance policy only covers you for the state statutory minimum liability limits required by law, but does not cover your damage or loss to your rental.

What is your fuel policy?
All Scooter Rental scooters are presented with a full tank at the start of your rental, and should be returned with a full tank. If your motorcycle is returned with less than a full tank of fuel, you will incur a refuelling charge of 15 euro.

What is the minimum age requirement to rent a scooter from from Blanca Cars?
You must be at least 18 years of age with a valid license (from any state or country) to rent a scoote. This age requirement applies to any additional rider/operator of the scooter and additional rider/operator must also sign the rental agreement along with the primary renter. There is no age limit for passengers; however, the passenger must be able to reach the passenger foot pegs or floorboards of the bike.

Do you rent helmets?
Helmets are provided free with every scooter rental. All of our helmets are sterilised and cleaned in between rentals to ensure a quality, clean helmet for every customer. Helmets are required by law in all locations.

Can we ride the equipment off road?
Absolutely not. It is a condition of your rental contract that your scooter is to remain on roads at all times.

What if I get a Penalty Charge Notice, Fine or Toll Charge?
You will be liable to pay any fines or tolls immediately upon being notified of such offence. Should you fail to immediately pay upon being served a notice we have the right to deduct this outstanding amount from your deposit. If the deposit held is less than the fine we reserve the right to immediately cancel your rental until all outstanding monies are paid in full. Please note that there will be a 50€ administrative fee for processing any fines.

Can I reserve a scooter in Javea over the phone?
Yes, we are happy to help you reserve a scooter over the phone.

What are your hours of operation?
Scooter Rentals' standard hours of operation are 9:00am to 18:00pm 6 days per week (closed Sunday). We are closed on all public holidays however there is always an emergency number available to call during hours of closure.

What forms of payment do you accept?
Blanca Cars scooter rentals accept Visa, MasterCard, Debit Cards and cash. The Security Deposit required upon delivery may either be a credit card authorisation, debit card or cash.

When do I need to pay for my motorcycle rental?
You pay for your scooter hire when you collect the motorbike at our office in Javea Arenal. There is no prepayment or cancellation fee.