Car hire in Alfaz del Pi
with full cover, no deposit, no excess, and zero surprises. We offer car hire with free door to door delivery/pickup service all over Costa Blanca North, including Alicante Airport and Valencia Airport. Use the search form below to find
cheap all inclusive car hire in Alfaz del Pi
or call booking +34 653 221 333.
Car hire in Alfaz del Pi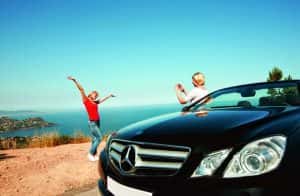 We offer a wide range of car hire in Alfaz del Pi on the costa blanca coast in Spain, ranging from small economic cars that best suit a couple traveling alone on holiday, to large family cars and minivans where the whole family can travel together. We also have cars with automatic transmission, SUV`s, and premium or family full size cars. Whatever you need, short term or long term we have a rental car that will suit you.

Tired of been charged extras? We offer all inclusive car hire in Alfaz del Pi, at Alicante and Valencia Airport and surrounding areas Costa Blanca North. Our rates are all inclusive with full cover, no excess and no deposit, meaning that you don't have to leave a deposit when you pick up the car.


All inclusive car hire – The price you get is the price you pay. We guarantee you will not have unpleasant surprises when you collect your car hire. Check our car hire reviews in Alfaz del Pi.
No deposit or excess – Our prices always include our Super Relax Insurance so you can enjoy your holiday and drive without worries.
No cancellation fees – Book our cancellation insurance and you can cancel your booking free of charge up to 48 hours before arrival. The prices we give will always include no cancellation insurance.
No prepayment – No prepayment online, you pay when you get the car
Free door to door delivery service Costa Blanca North – We will deliver and collect the car at your door step. your house, hotel or holiday residence at no extra costs.

Alfaz del Pi you explore best in a rental car, and if you need 7 or 9 seater car hire in Alfaz del Pi, it is cheaper to rent than two small cars, as well as savings on gasoline costs etc. With a seven or nine seater car, it will allow bigger families or golf groups to travel together so nobody misses day trips to the beach or other adventures in Alfaz del Pi. Book you car rental early, because all 7 and 9 seater cars are highly requested, with limited availability, especially in Easter and the summer months between June and September.

Driving an automatic car hire in Alfaz del Pi is a great way to explore Costa Blanca, and BlancaCars.com makes it easy for you to hire a car with automatic transmission. An automatic transmission gives far greater ease of driving as you are unencumbered by constantly using the clutch and as you shift gears. In cities where stop-starts are frequent in heavy traffic, automatic cars can help create a less stressful environment for drivers as they navigate crowded roads. For those travelling through hilly terrain an automatic car can also be a huge advantage as it prevents 'rollback' upon starting from a stop on a large incline.

In Spain EU-approved labeling applies and children must sit in a car seat until they are 135cm tall. When you're choosing your car hire in Alfaz del Pi, think practically about how much space you'll need for car seats, as well as luggage and any other baby kit you're taking. Look at how many doors the vehicle has and choose a car with four doors, as putting children in car seats is hard work in two-door models.

If you've rented a child seat in Alfaz del Pi or at the airports, first of all check that it is the seat you ordered and it works for your age of child. Give the seat a once-over before fitting it, checking the harnesses are adjustable and work properly, and making sure there's no damage. If you're unsure on how to fit it, ask a member of staff for advice.


Cheap car hire Alfaz del Pi
Heading to Alfaz del Pi and need the cheapest rental car? Millions of tourists each year rent a car at Alicante Airport and Valencia Airport, and in the high season it may sometimes be difficult to get the kind of car that you want. Then it is good to be aware of a few things when renting a cheap car in Alfaz del Pi, so your holiday in Spain get as hassle-free as possible from the start to the end.

If you need the cheapest rental car for your stay in Alfaz del Pi, it is easiest to book it for pickup when you arrive at Alicante airport, or Valencia Airport. Then you can easily return it when you return to your home country, and you do not need alternative transport to and from Alicante and Valencia Airport.


Car hire tips Alfaz del Pi
Good tips about car rental in Alfaz del Pi. They will help you to find a car hire in Alfaz del Pi, and ensure that everything runs smoothly, and you can focus on enjoying your holiday. Read: 15 tips for affordable car hire in Alfaz del Pi.

#1 Rent a car in Alfaz del Pi online – In most cases it is much cheaper to book a car online, than wait to hire a car when you have landed at Alicante or Valencia Airport. If you wait to the last minute, prices will be higher, less cars to choose from, and you may have to settle for a rental car that does not fit you and your family on your holiday.

#2 Book your car early – As with airplane tickets it is advisable to book your car hire in Alfaz del Pi as soon as possible. A good rule is to book a car when you know when you are flying to Alicante or Valencia. If you book your car early on internet you will save a lot compared to if you wait until closely to departure. During holidays and festivals this is particularly important because of the lack of rental cars in Alfaz del Pi.

#3 Do not forget the size of your luggage – Many believe that the cheapest rental cars are the smallest, and this is also the car type that is ordered most of. What many do not consider is that the whole family should sit comfortably, and in addition to that it should be plenty of space for luggage. Choose a midsize car with more space. Surprisingly enough, it could be at least as cheap as a small car.

#4 Be prepared and save time – Make sure you bring a copy of your order on car hire in Alfaz del Pi, reservation number, driver's license, passport and credit card. Car companies have high demand and very often you can experience a big queue. Do you have this ready when it's your turn, you will save time.

#5 Check your car when you pick it up – This is an important. Even when you are in a hurry or feel tired, it is worth taking the time to check the car carefully. You are responsible for the damage to the car. Make sure all scratches and dents are mentioned in the contract. Otherwise, they may try to charge you for damage done by the previous tenant. Same goes for the interior. Use your mobile to make a video and take pictures around the vehicle. Then you have evidence of what condition the car was when you got it.


Alfaz del Pi short guide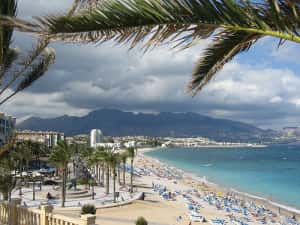 Alfaz del Pi is a Valencian town and municipality located in the comarca of Marina Baixa, in the province of Alicante, Spain, lying at the foot of Serra Gelada.

L'Alfàs del Pi has an area of 19.3 km² and, according to the 2018 census, a total population of 20,053 inhabitants. The town has the second largest concentration of Norwegian residents abroad, along with sizable Dutch and English communities. The economy of L'Alfàs del Pi is mainly based on tourism. The most important monument in the city is the Catholic church of Crist del Bon Encert, built in 1784. The town's symbol is a pine tree, which can be found in the church square. It is home to a nationally renowned film festival which runs each year.

Alfàs del Pi has created a planned sea-side community – Platja de l'Albir – situated between Benidorm to the south and Altea to the north in fields earlier dominated by citrus and almond groves. Since 1995, Albir has grown into a village of about 5,000 inhabitants; the majority of whom are originally from Northern Europe.

Alfàs del Pi has a high amount of foreign-born residents, having a higher percentage of foreign residents than Spanish residents. The largest foreign population are Norwegians, who have two public Norwegian schools, paid by the Norwegian government, two elder care centres for Norwegians and the only volunteering centre opened by the Norwegian government outside of Norway.


Car rental destinations close to Alfaz del Pi
Car hire Alicante Airport – Car hire Valencia Airport – Car hire Albir – Car hire Alcalali – Car hire Alfaz del Pi – Rent a car Altea – Rent a car Benidoleig – Rent a car Benidorm – Rent a car Benilloba – Rent a car Benissa – Rent a car Benitachell – Rent a car Calpe – Car hire Cumbre del Sol – Car hire Costa Blanca – Car hire Costa Blanca North – Car hire Denia – Car hire El Vergel – Car hire Finestrat – Car hire Gata de Gorgos – Car hire Jalon – Rent a car Javea – Rent a car Jesus Pobre – Rent a car La Nucia – Rent a car La Sella – Rent a car Lliber – Rent a car Moraira – Rent a car Orba – Rent a car Ondara – Car hire Parcent – Car hire Pedreguer – Car hire Polop – Car hire Teulada – Car hire Torrellano – Car hire Villajoyosa