Valencia Airport ( VLC ) is an airport located 9 km west of Valencia city center. The airport mainly serves business passengers to and from Valencia as well as tourists to the Costa del Azahar and Costa Blanca North. The airport was officially opened in 1933, and today has 2 terminals. Valencia Airport serves 4.7 million passengers annually (2012).

Nearly 35 airlines have direct flights from Valencia Airport to 41 destinations. However, half of the flights go to the Spanish capital Madrid. Of the international routes, England, Germany, Italy and France are represented.

Public facilities at Valencia Airport consist of 2 restaurants, tax-free shop, kiosk, souvenir / gift shop, pharmacy, VIP lounge, ATMs, information desk, tourist office, medical aid, prayer room and internet access.
To get from the airport to the center of Valencia you can use the metro (line 3 or 5), bus (line 150) or taxi.


Video of landing at Valencia Airport
Facts Valencia Airport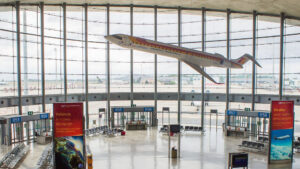 Valencia Airport, commonly known as Manises Airport has developed significantly in recent years. Since 1995, the number of passengers has doubled. In 2005, more than 4.5 million passengers traveled via Valencia Airport. This is due to the low cost airlines that have joined, such as EasyJet. Also because the Costa Blanca – Southern Valencia – is becoming an increasingly popular place for someone to have their second home.

Top 10 destinations from Valencia Airport are Paris, London, Palma de Mallorca, Frankfurt, Amsterdam, Madrid, Milan, Rome, Ibiza and Brussels. Valencia Airport handled 7,769,867 passengers in 2018.


Shopping at Valencia Airport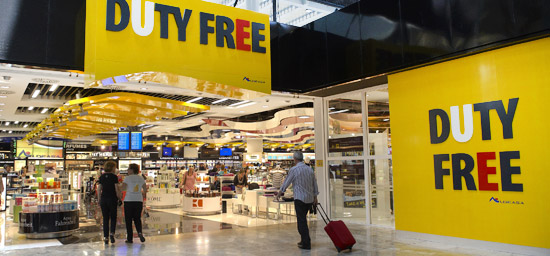 There are a limited number of shops at Valencia Airport. The large duty free Aldeasa shop is the main place with Thinking Espana supplementing the goods it stocks with more local Valencian and Spanish foodstuffs, arts and crafts and souvenirs.

All of the shops are in the departures lounge, and the only retail outlet in the public area (apart from the pharmacy) is the News and Books shop which stocks a good range of books, magazines and newspapers in several languages where you can pick up something to read on your flight.

The two main stores are open from the first to last flight and close overnight for about eight hours so don't bank on them being open all the time.


Parking Valencia Airport
BlancaCars offers a lowcost parking at Alicante airport and Valencia airport with a complimentary delivery and collection service. We accept all types of vehicles including cars, motorbikes, caravans, boats and trucks from one day to one year and have a complimentary airport transfer service.

With more than 2000 parking places and a 24 hours vigilance service, you can park your vehicle in our parking areas with total tranquility, we will escort you to the airport terminal. Just let us know when you return and we will await your arrival to escort you back to your vehicle. Your parking allocation is guaranteed and we are fully insured against any unforeseen circumstances that may occur. You can park with us from 1 day to a whole year. The costs will come down from two third to one tenth of what you would pay for your parking at the airport terminal, depending on the amount of days you want to park your car. Read more about parking at Valencia Airport


Transport Valencia airport
The airport is situated 8 km. west of the city, in the city limits of Manises. There are a frequent bus-service from the terminal to the city centre, metro line and taxi-service.


Taxi Valencia Airport
The taxi service is run by city taxis from Valencia and Manises. The journey from the airport has a supplement of €5.40. Make sure that the taxi driver starts the taximeter at the beginning of the journey (minimum fare). We recommend requesting a receipt for any complaint or claim.

Taxi contact information:
Radio Taxi Manises: 961 521 155
Radio Taxi Valencia: 963 703 333
Taxco: 902 024 972
Taxis de Valencia: 961 119 977
Taxi Valencia: 644 015 655


Car hire Valencia airport
If you need a rental car at Valencia Airport, it is easiest to book it for pickup when you arrive at the airport in Valencia. Then you can easily return it when you travel back to your home country, and you avoid alternative transport to and from Valencia Airport. In most cases, this is cheaper than using small local suppliers in the region of Valencia. Use the form below to get cheap all inclusive car hire at Valencia Airport.



Bus Valencia Airport
Aero-Bus
Itinerary: Airport-Valencia-Airport. Direct service.
Stops:
Airport departures – Avenida del Cid (opposite to Local Police Office) – Calle Bailen – Calle Angel Guimera (next to Calle Juan Llorens) – Avenida del Cid – Airport departures.
Timetable: From 6.00 to 22.00. Every 20 minutes.
Price: 2.5 €.

Line 150
One bus line connects the airport with the centre of Valencia, with stops in the towns of Mislata, Quart de Poblet and Manises. City bus route 150 (Metrobus) runs between the airport and Valencia city centre, with intermediate stops at Mislata, Quart de Poblet and Manises. Stops at the airport bus stop. You can buy the ticket on the bus. You can check all the schedules and stops via this link

Tariffs
One-way ticket: €1.45
Over 65s: €1.
General large family: €1.15
Special large family: €0.70.

To Valencia:
From Monday to Friday, from 5:25 to 22:00, every 26 minutes.
Saturdays, from 5:25 to 22:05, every 35 minutes.
Sundays and public holidays, no service.

To the airport:
From Monday to Friday, from 5:25 to 22:35, every 26 minutes.
Saturdays, from 5:25 to 22:35, every 35 minutes.
Sundays and public holidays, no service.


Metro to Valencia Airport
There are two underground lines which link the airport, the city centre and the port: the line 3 (Rafelbunyol-Aeroport) and the line 5 (Marítim Serrería – Torrent Av. / Aeroport). The station is at the ground floor of the regional flights terminal. The journey takes around 25 minutes. Tickets: €4.90 (3.90 + €1 for the card)

– To City centre: lines 3 or 5 – Xativa station.
– To Nord Railway Station: lines 3 or 5 – Xativa station.
– To Joaquin Sorolla Railway Station: lines 3 or 5 – A. Guimera station and line 1 – J. Sorolla station.
– To port: line 5 – Grau Canyamelar station.

If you arrive late to Valencia, and want to be sure if you can get from the airport to the city center by metro, in this website you can check underground timetables for a date.


Address Valencia Airport
Carretera del Aeropuerto s/n,
E-46940 Manises/Valencia,
SPAIN
Phone: +34 902 404 704
0° 28′ 42" W
39° 29′ 25" N
Internet: http://www.aena.es/


Map Valencia Airport