Teulada is a small coastal town on Spain's Costa Blanca, located 3 km north from Junction 63 of the A7 E-15 toll motorway on the N-332 coast road. The nearest towns to Teulada are Moraira, Benissa and Benitachell.

Teulada's historic quarter, in the interior of the province of Alicante, is surrounded by a green landscape filled with vineyards, a crop that reflects the agricultural tradition of this municipality, and is part of its identity. Surrounded by a wall in the old times, Teulada's city centre is dominated by the church of Santa Catalina, a very beautiful example of Flamboyant Gothic architecture, erected to honour the patron saint.


Video Teulada
Things to see in Teulada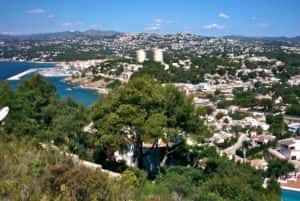 The market in Teulada is every Wednesday morning where you can buy your fruits and vegetables, handbags, honey, local crafts and souvenirs to take back home. Teulada does not have any beaches because it is set inland off the coast but if you are using Teulada as a base for your vacation or holiday then the beach resort of Moraira is just 4km away with very good beaches.

The town council of Teulada has passed laws in the past to limit the height of tall buildings unlike the skylines of Benidorm and Calpe, to protect the pine trees covering the valleys all the way to Moraira. Agriculture is still of great importance to Teulada as the terraced slopes are dominated by olives, almonds, grapes, lemons and oranges but nowadays tourism and construction form the backbone of the local economy.

Teulada is still very Spanish with its heritage and traditions although many Dutch, German and English people have made Teulada their new home. Teulada is also known for its firework displays, one of the best on the coast.


Airports near to Teulada
Alicante is the best-placed airport for travel abroad, and like any major city, offers a variety of destinations and price points for the budget conscious. The working day is often seasonal, with later opening hours over the summer months, and many businesses still close during traditional siesta hours.

Alicante Airport (IATA: ALC, ICAO: LEAL), also known as Alicante-Elche Airport, is currently the fifth largest airport in Spain and is the gateway to the Costa Blanca resort region, serving both the Valencia Community and the Region of Murcia. It is located 9 kilometres southwest of Alicante city. Growing in size continuously over the past years, in March 2011 the airport got a brand new terminal building, replacing the old two terminals.

Corvera Murcia Airport is a new Airport in Murcia. Several airlines are flying in and out of Corvera Murcia Airport, covering an increasing number of flight routes. Corvera replaces Murcia San Javier Airport (for civilian flights) and is also run by AENA (the official airport authority). It has significant scope to handle many more additional routes.

Valencia Airport ( VLC ) also known as Manises Airport, is the tenth-busiest Spanish airport in terms of passengers and second in the region after Alicante. It is situated 8 km (5.0 mi) west of the city of Valencia, in Manises. The airport has flight connections to about 20 European countries and 5.79 million passengers passed through the airport in 2016.

A new regional terminal, expanded car parking facilities and apron area have been recently constructed in time for the 2007 America's Cup. The runway has been also lengthened by 50 m (160 ft). The airport has one terminal and one runway. The former runway 04/22 is not in use and has no ILS but has a helipad at the southwestern end.

It is the main base of Iberia's regional carrier Air Nostrum. Irish low-cost airline Ryanair used the airport as a hub since 2007 but decided to close it in November 2008 following a dispute over subsidies by the airport authorities. Since then the airline has continued to operate out of Valencia but as a relatively large destination airport, and not a base.


Car hire Teulada
Car hire in Teulada with full cover, no deposit, no excess, and zero surprises. We offer car hire with free door to door delivery/pickup service all over Costa Blanca North, including Alicante Airport and Valencia Airport. Use the search form below to find cheap all inclusive car hire in Teulada or call booking +34 653 221 333.


Buy property Teulada
The Costa Blanca is one of the favorite destinations for both Spaniards and Europeans to buy a 2nd home. One of the main reasons for this great influx of visitors is (besides the unrivaled climate Costa Blanca offers) the immaculate beaches stretching along the Alicante coastline. But the Costa Blanca has much more to offer in all aspects. From its mouth-watering culinary delights to the wide range of inland activities to be practiced locally. The Costa Blanca is a place to be enjoyed at any time of the year. Read more about buying a property in Teulada.


Map Teulada
Destinations on Costa Blanca North
Costa Blanca – Costa Blanca North – Alicante – Valencia – Albir – Alcalali – Alfaz del Pi – Altea – Benidoleig – Benidorm – Benilloba – Benissa – Benitachell – Calpe – Denia – El Vergel – Finestrat – Gata de Gorgos – Jalon – Javea – La Nucia – Lliber – Moraira – Orba – Parcent – Polop – Pedreguer – Teulada – Torrellano – Villajoyosa