Gata de Gorgos is a village in the Marina Alta region of the north Costa Blanca in Spain. The village is known for its wicker industry and for having an unusually large number of bars and restaurants.

There are towns that are not just for the summer. And Gata de Gorgos is one of them. This corner of Alicante is located in a strategic place on any good route through the Mediterranean region of the Marina Alta: 9 kilometers from Jávea, 13 from Denia and just over an hour's drive from both Valencia and Alicante.

Wherever you go and wherever you come from, we give you reasons to stop along the way and fill the trunk with local crafts, from baskets or wicker baskets to hats or guitars but also gastro gifts. Every day, the streets of this Alicante town dress up with their typical products, which they proudly display to tourists who walk through its historic center and browse through its shops and stately homes.


Video Gata de Gorgos
Things to see in Gata de Gorgos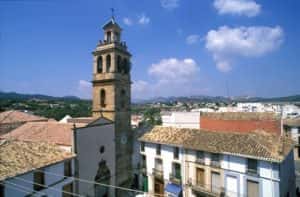 Gata de Gorgos and offer great nature experiences, such as a 12km hiking route, circular and marked by the Gorgos riverbed, which passes through the Arraval neighborhood, the Font de la Mata or the Barranc de Cinnamon. Aunt Amparo's House (Plaza de España, 30). Although it is not Amparo, but Marisa Signes, her great-niece, who in 2016 turned this 19th century town house into a tourist accommodation in a shared housing format.

Guitarras Bros (Partida Rompudetes, 32). It is one of the two artisan guitar factories in Gata de Gorgos: they make classical, flamenco, Cuban tres and also personalized ones. Cabinetmaking and music come together in this family business that, since 1974, manufactures guitars that, thanks to its international fame and its relationship with the television program El Hormiguero, have played such diverse artists as Amy Winehouse, Joaquín Sabina, Diego El Cigala or Rozalén.

The town's key fiestas take place during July to honour The Christ of the Calvary.(Fiestas en honor al Santísimo Cristo del Calvario). A key part of this event includes bull running along the street known as Paseo de Alicante – another is when the town's young men and women who are 'coming of age' form groups called 'Quintos' and march through the town accompanied by music and watched by family and friends.


Airports near to Gata de Gorgos
Alicante is the best-placed airport for travel abroad, and like any major city, offers a variety of destinations and price points for the budget conscious. The working day is often seasonal, with later opening hours over the summer months, and many businesses still close during traditional siesta hours.

Alicante Airport (IATA: ALC, ICAO: LEAL), also known as Alicante-Elche Airport, is currently the fifth largest airport in Spain and is the gateway to the Costa Blanca resort region, serving both the Valencia Community and the Region of Murcia. It is located 9 kilometres southwest of Alicante city. Growing in size continuously over the past years, in March 2011 the airport got a brand new terminal building, replacing the old two terminals.

Corvera Murcia Airport is a new Airport in Murcia. Several airlines are flying in and out of Corvera Murcia Airport, covering an increasing number of flight routes. Corvera replaces Murcia San Javier Airport (for civilian flights) and is also run by AENA (the official airport authority). It has significant scope to handle many more additional routes.

Valencia Airport ( VLC ) also known as Manises Airport, is the tenth-busiest Spanish airport in terms of passengers and second in the region after Alicante. It is situated 8 km (5.0 mi) west of the city of Valencia, in Manises. The airport has flight connections to about 20 European countries and 5.79 million passengers passed through the airport in 2016.

A new regional terminal, expanded car parking facilities and apron area have been recently constructed in time for the 2007 America's Cup. The runway has been also lengthened by 50 m (160 ft). The airport has one terminal and one runway. The former runway 04/22 is not in use and has no ILS but has a helipad at the southwestern end.

It is the main base of Iberia's regional carrier Air Nostrum. Irish low-cost airline Ryanair used the airport as a hub since 2007 but decided to close it in November 2008 following a dispute over subsidies by the airport authorities. Since then the airline has continued to operate out of Valencia but as a relatively large destination airport, and not a base.


Car hire Gata de Gorgos
Car hire in Gata de Gorgos with full cover, no deposit, no excess, and zero surprises. We offer car hire with free door to door delivery/pickup service all over Costa Blanca North, including Alicante Airport and Valencia Airport. Use the search form below to find cheap all inclusive car hire in Gata de Gorgos or call booking +34 653 221 333.


Buy property Gata de Gorgos
The Costa Blanca is one of the favorite destinations for both Spaniards and Europeans to buy a 2nd home. One of the main reasons for this great influx of visitors is (besides the unrivaled climate Costa Blanca offers) the immaculate beaches stretching along the Alicante coastline. But the Costa Blanca has much more to offer in all aspects. From its mouth-watering culinary delights to the wide range of inland activities to be practiced locally. The Costa Blanca is a place to be enjoyed at any time of the year. Read more about buying a property in Gata de Gorgos.


Map Gata de Gorgos
Destinations on Costa Blanca North
Costa Blanca – Costa Blanca North – Alicante – Valencia – Albir – Alcalali – Alfaz del Pi – Altea – Benidoleig – Benidorm – Benilloba – Benissa – Benitachell – Calpe – Denia – El Vergel – Finestrat – Gata de Gorgos – Jalon – Javea – La Nucia – Lliber – Moraira – Orba – Parcent – Polop – Pedreguer – Teulada – Torrellano – Villajoyosa