Everything you need to know about collection and return of your car hire from Blanca Cars at Valencia Airport. It's very quick and easy to pick your car up, so just make sure you note down the details of what you need to do with collection and return of the rental car at Valencia Airport.


Collection of car hire at Valencia Airport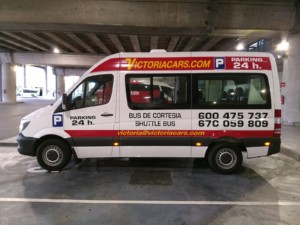 You can find all the instructions for collection on your booking confirmation that we have sent you on your email. You can also view this information on the main page of our website under the section FAQ, and then clicking on the office destination you need. Our representative or courtesy shuttle bus will be waiting for you at the location point at Valencia Airport provided to take you to the depot for collection of your car hire.


Description to collect the car hire at Valencia Airport
#1 When you come out in the arrival area at Valencia Airport, walk out of the building and turn left to parking area P6.
#2 When you arrive at parking area P6 our free shuttle bus market with Victoria Cars will be waiting for you and drive immediately to Victoria Cars depot located 2 minutes away from the airport. If the shuttle bus is not there when you arrive, just wait a couple of minutes.

There is no waiting time with this service. Once you arrive at the office there are no ques. Simply get off the shuttle bus, do all paperwork in a few minutes and ready to go.


What documents do I have to provide to collect the vehicle at Valencia Airport?
Valid Passport or National Identity Card.
Driver's license.
Debit/credit card in the name of the main driver.
Booking confirmation.
Return of the car hire at Valencia Airport
To return the car hire at the end of your contract period, you can return it directly to the depot at Valencia Airport, see address below. When you are at depot and returning your car, a shuttle bus will take you directly to arrival area at Valencia Airport. Please remember to refill the car, so you return the car with full tank. Here is a mini guide to the best petrol stations near Valencia Airport.




Address returning car at Valencia Airport
Victoria Cars
Carrer el Maestrat
46940 Manises
Valencia
Phone: +34 609648900


Will I still have my car available if my flight to Valencia Airport is delayed?
Yes, if you have provided us with a valid flight number, we can monitor the flights and be aware of any delays. It is imperative that we have a correct flight number for the arrival at Valencia Airport.


I'm not coming to Valencia Airport by plane, how can I book?
If you are not travelling by plane and you want to collect the rental car directly at our office at Valencia Airport, all you need to do is to let us know in the booking process, or call our customer service +34 653 221 333 to reserve a car. If you are coming by plane, it is very important that you give us your flight number to confirm your arrival time.


Can I make a reservation and collect the vehicle at Valencia Airport on the same day?
Yes, you can. For our airport offices you need to book by phone +34 653 221 333 minimum 1 hour before arrival. In this case we can not guarantee that all car models are available, but we will let you know when you book the car what we will have available at that time.