Finding a good, trustworthy mechanic in Teulada on Costa Blanca North that'll charge you a fair price is crucial to keeping your car roadworthy and your bills in check. These tips will help you choose wisely, and help you find cheap mechanics in Teulada in Spain.

When you take your car in for servicing or repairs, does your mechanic in Teulada provide a free courtesy car? Sadly, many motorists will answer that question 'no'. In Spain most mechanics do not have that service, or not enough cars for all their clients. We in BlancaCars give special offers to mechanics and their clients all over Costa Blanca North in Spain. So if your car needs to go to the mechanic, and you need a cheap car rental until your car is fixed, let us know and we will deliver a car at the shop or at your home free of charge. Call BlancaCars at +34 653 221 333.

When your car is ready for you to take it home, you can just arrange for us to meet you at the garage and we will collect the rental car from there. Renting a car from BlancaCars is easy.


Mechanics in Teulada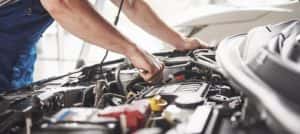 As with most buying decisions, it pays to do a little homework before taking your car to be repaired or serviced in Teulada. First, create a shortlist of garages near you, we have in this article listed a few good options with mechanics in Teulada that have a 4 star rating or better on Google reviews, but you can of course have a look at other options out there.

If you need to leave your car at the garage in Teulada, which is highly likely, you'll be glad it's not too far away, and if you need a replacement rental car, we will deliver your car at your doorstep. Below we have listed some good mechanics in Teulada on Costa Blanca North in Spain.


#1 Talleres Martí Benissa SL
We have a dedicated team to provide a complete car service.
We strive to deliver top performance and the best service on a daily basis, in order to achieve the complete satisfaction of our customers.
Address:
Calle Juan de la Cierva 6
03720 Benissa
Alicante
Phone: 965 73 01 35
Website: http://talleresmartibenissa.com/


#2 Marcelino Gato Martín e Hijos
In our rapid mechanics centers, we have the latest technological advances, as well as a human team capable of providing the appropriate solution to the different needs of your car. The flexibility in the delivery and collection of the vehicle, the possibility of going to carry out operations without an appointment, the use of top quality parts and components and a clear pricing policy, without last minute surprises, are some of the many advantages and facilities offered by centers belonging to the Vulco network.
Address:
Av. Europa, 17
03720 Benissa
Alicante
Phone: 965 73 10 72
Website: https://www.vulco.es/marcelino-gato-martin-e-hijos/


Mobile mechanics in Teulada
A mobile mechanic service in Teulada is able to perform most jobs right in your driveway or at your parking spot at work giving you the freedom to spend time on more important things. You can also avoid towing your car to a shop in Teulada if it won't start. Mobile mechanics in Teulada service all types of cars and perform everything from oil changes and tune ups to brake jobs and no-starts.

Just let the mechanics in Teulada know what services you need and they will send you a fixed quote. Don't know what's wrong? Not a problem, they will come out, do a diagnostic visit and create a quote for you.


Cheap mechanics in Teulada
If you are looking for a cheap mechanic in Teulada, it's possible to get an idea of how much a service or repair is likely to cost before a mechanic even looks at your car. As long as you know roughly what you need the garage to do – such as a 'major' or 'minor' service, or to fix something specific.

If you're unsure what needs doing, it's still possible to call round a few garages in Teulada to ask about their hourly rates, although bear in mind not all garages will take the same time to complete a job. You'll nearly always find that labour rates at local independent garages are significantly cheaper than a franchised 'main' dealer, however you may be able to take advantage of a fixed-price servicing deal at a main dealer that will offer better value in the long term.


Courtesy car service Teulada
If you own a vehicle, no matter the make or size, there will come a time when it must go into the shop for repairs. Sometimes the visits are for a routine check-up such as an oil and filter change or belt replacement, not anything that will put your car out of commission for more than a day. And other times your car requires far more work and parts may need to be ordered.

Blanca Cars offer a courtesy car service at any mechanic or garage in Javea, Benitachell, Teulada, Moraira, Denia and surrounding areas. Rent your courtesy car with us all inclusive with full cover, no deposit, no excess. Free door to door delivery at the garage or at your home. Call Blanca Cars +34 653 221 333 now.


Destinations mechanics Costa Blanca North
Javea – Benitachell – Cumbre del Sol – Teulada – Moraira – Benissa – Lliber – Jalon – Alcalali – Orba – Pedreguer – El Vergel – Denia