Car rental age limit in Benissa. Which age limit is required to rent a car from Blanca Cars in Benissa in Spain?. Everything you need to know about how old you have to be to rent a rental car in Benissa, and how to avoid any surprises and drawbacks. Get a quote by using the form below, or call booking +34 653 221 333 for car hire for young drivers in Benissa.

Age limit when you rent a car in Benissa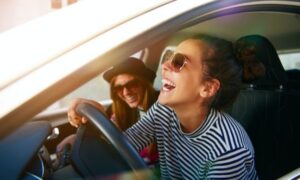 All car hire companies in Benissa have their own rules that you have to pay attention to. This means that you have to check what is required and conditions for young drivers to rent a car in Benissa. The minimum age to rent a car as authorized driver is 22 years old with a minimum age of driver´s licence of 2 years. If you have any question about age restrictions when renting car from Blanca Cars, give us a call +34 653 221 333 ( Monday to Sunday 10.00 am – 10.00 pm ).

If you are younger than 24 years old or not having a minimum of 2 years of driver´s licence, you will have to pay for an optional insurance "Novice Driver" to figure as authorized driver, and will be required to take the Super Relax Insurance for that driver. The novice driver insurance costs from 12 euro extra a day.

If the main driver and car hire contract holder is over 25 years old and add a young driver as a additional driver, you still have to pay a "Novice Driver Fee" for the additional young driver. It`s not possible to have more than one young driver on same car hire contract. Read more about car hire in Benissa or our FAQ section.



Lower age limit for car hire in Benissa
Most car rental companies in Benissa on Costa Blanca North in Spain have a lower age limit of 22 years. There are several reasons for this, but the most important reason is about the insurance on the car. Yes there are most accidents in traffic for those who are under 22 years of age. Therefore, the insurance that the company pays for the car is also more expensive if they are to hire a car to a person under the age of 22. Many companies also have additional fees for renters under 25 years of age.


The age of the driver is important
Spain rental car age restrictions require a minimum driver age of 21 and many suppliers will set their minimum higher at 23. There are no maximum age restrictions, but any driver under 25 will incur extra young driver surcharges of around €12 per day. You might think that age doesn't play such a big role, but it does. If there is an accident and the driver is below the age limit that the company accepts, you risk a large liability. Then the standard insurance on the car will not be accidentally valid.


Car hire age requirement facts for Benissa
Rental car age requirements are determined independently by each car hire company in Benissa – Car rentals for 18 year old are possible, and even though the minimum legal driving age in most European countries is younger than 18, each respective car rental company can choose who they will or will not rent to, and can set their own rules and restrictions.
Car rental age limits in Benissa are based on the terms and conditions from the car hire company you rent from – The only car rental age restrictions that will apply to you will be detailed in the terms and conditions of your rental contract, but national laws will still apply if you plan on driving to different countries. Always be sure to read up on driving laws in any country you intend on visiting and give prior notice if you plan on driving a rental car internationally.
Young driver surcharges are incurred by rental suppliers and paid locally – If your age requires you to pay an additional fee according to the terms and conditions of your rental car contract, the additional amount will be included in your rate and will need to be paid locally at the rental desk when you pick up your vehicle.
Rental car age restrictions in Benissa may require you to purchase insurance – If you are a senior driver or younger driver, particularly those looking to rent a car under 24, you may be required to purchase an inclusive rate rather than opting for a basic rate or using insurance provided by a credit card.
Car rental age requirements in Benissa may restrict you from renting certain vehicles. – Many rental companies in Benissa will set higher age limits for specialty and luxury vehicles. Vehicles in the economy and compact classes will always have the fewest age-related restrictions.
Car rental destinations close to Benissa on Costa Blanca North
Alicante Airport – Valencia Airport – Albir – Alcalali – Alfaz del Pi – Altea – Benidoleig – Benidorm – Benilloba – Benissa – Benitachell – Calpe – Costa Blanca – Costa Blanca North – Denia – El Vergel – Finestrat – Gata de Gorgos – Jalon – Javea – La Nucia – Lliber – Moraira – Orba – Parcent – Polop – Pedreguer – Teulada – Torrellano – Villajoyosa